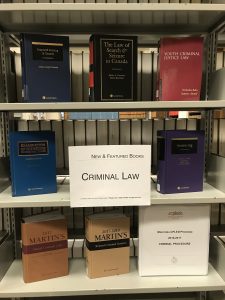 We have a new book display available in the Library all based around Criminal Law.
All books are items from our reserve room, and thus are the most recent editions.
If you're looking to take out any of these books, please let a staff member know (48 hour loan period).
The titles are:
Impaired Driving in Canada (4th ed.) by Justice Joseph F. Kenkel
The Law of Search and Seizure in Canada (9th ed.) by James A. Fontana and David Feeshan
Youth Criminal Justice Law by Nicholas Bala and Sanjeev Anand
Examination of Witnesses in Criminal Cases (7th ed.) by Earl J. Levy
Sentencing (9th ed.) by Clayton C. Ruby, et. al.
2017 Martin's Annual Criminal Code
2017-2018 Martin's Related Criminal Statutes
2016-2017 Criminal Procedure by the Manitoba CPLED Program